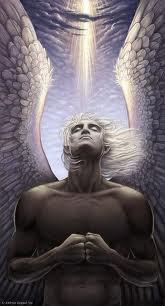 Many ask me why I wrote this book. I didn't set out to be a famous novelist or anything. But I love stories. I've been an avid reader of supernatural/paranormal fiction since I was 12 years old (before there was a YA fiction section in the bookstores!). Although I'd already exhausted my enthusiasm with paranormal fiction by reading Ann Rice and Maggie Shayne years and years ago, I still crave fresh new stories in this genre. (And admit I can't keep from tuning into Vampire Diaries each week! They still manage to surprise and thrill me each time. Great writers!!!) My new favorite is "Beauty and the Beast" on the CW.
After reading "Angelology" by Danielle Troussoni, I realized that there were others out there who sit around and dream about the world of angels like I do. I'm not as weird as I thought! (insert wink!) And what about the fallen angels? And the two hundred who, pre-flood, came down and married human women and formed a "super race" called Nephilim (who were later destroyed in the Flood)?
A few years back, my daughter had  begun to tire of yet another vampire book (insert roll of eyes), or romance between a human and fallen angel (really???), she began to get restless for something new. As I sat in either the second or third Twilight movie (falling asleep) I began to think, "There has to be a way to write riveting supernatural/paranormal fiction that will appeal to these women and girls who crave this genre without including vampires, wolves, fallen angels, or zombies." So I began to write this story. I named the main character after my daughter (she loved when I would do that with stories when she was little), and I'd write a chapter a day and she'd come home and read it. Once I got to chapter four, she got scared and stopped reading…ha! Don't worry, she grew up and braved the rest eventually. I think it creeped her out a little knowing some of the scenes came from real life experiences of my personal friends, so it read more like fact than fiction for her…luckily I brought it to life enough to make it authentic for her.
By the time I got to chapter five, I decided I better let a few other young adults and older adults read the story and give me feedback. After all, it's not like I needed another thing on my plate. I run a show kennel, have several internet marketing businesses while trying to be a good mom and wife. If I was a crappy writer, I wanted someone to tell me!
The gal I showed it to first was about 27 years old at the time. She got to the third or fourth page and began to weep. Well…my heart sunk as I wondered, "Is it THAT awful?"
After wiping away the tears she remarked, "This just happened to me two weeks ago." (seeing her guardian angel)
As I picked my jaw off the floor, she began to share her life story, beginning with her childhood filled with angels. She'd never known any different. Seeing angels was as normal for her as breathing. Whenever she would share her stories with her mom she'd hear, "You have such a vivid imagination…"
But it was not until she began to experience such extreme demonic attack while working with an anti-suicide foundation that she first met Gideon, her guardian angel. She had just prayed that God would show her the "good" angels instead of the evil ones that had been plaguing her at the time. Of course, He was faithful.
This friend stood by me through the writing of this entire book, keeping it authentic and biblical. Of course, we've taken some fictional liberty to keep you engaged.
Additional scenes are from my other friends who also see angels. Yes, since I was in high school, God has always brought these special individuals into my life. I don't know why, except to say, I believed them. I'd had some supernatural encounters in my teenaged years, and I was pretty sure I wasn't crazy. (snicker) So I told them they weren't crazy either. Through my research during Bible College and study of Anthropology in my undergraduate work, I searched out the mysteries of what these people were telling me, and compared them with other accounts in both the US and cross-culturally. What I found was FASCINATING. I hope that you enjoy the 'ride' of New Wings, and that you will also have your spiritual eyes opened to the invisible war that rages around you in a realm seen by a special few the Bible calls "those who discern spirits." And no, they don't just get a "heebie jeebie" feeling…they SEE everything. It's not a glamorous gift to have. It is VERY difficult. These people are often labeled schizophrenic, bi-polar, or worse. Often they are drugged and told they are crazy.
I can't tell you how many people have read this story and contacted me saying, "I thought I was crazy, and I'm so glad I'm not alone in this. I can't talk with anyone about it. They won't believe me!"
Well, you're NOT alone if you are one of these "seers." Please feel free to join us other "crazies." Welcome to the world of New Wings. Be sure to fasten your seat belt. Enjoy!