The angelic realm isn't pretend; it's real. It's all around us.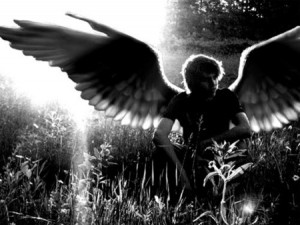 Its creatures are beautiful—and deadly.
Seventeen-year-old Olivia Stanton always knew the Bible says guardian angels exist, but she assumed they only showed up when people were dying or needed to be saved from some kind of sudden disaster. Until she meets her own guardian angel, who appears to her in the form of a good-looking guy her age. As Olivia gets to know Mike, she learns how many misconceptions she had about the spiritual realm. She starts seeing angels on a regular basis—both good and evil ones. Mike tells her he needs to prepare her for the daunting spiritual battle that is about to overtake her small town, which could destroy her, her family, and her friends.
***Tired of Twilight? Bored with Vampire Diaries?  Hate Zombies? Good News!  New Wings will grip you with its gritty new glimpse of the supernatural realm that is REAL, as never experienced before in novel form. These beings aren't boring.  They're fascinating.  They have personality, wit, bravery, and love. And some…are downright dangerous!****